Our Rentable Vault
Renamed items don't stack reliable in the current bukkit version. This is a bug in bukkit (reported here) that will prevent the vault from opening even though the correct key was inserted. We cannot fix this. But there is a workaround. Be sure to read it. Sorry about that :(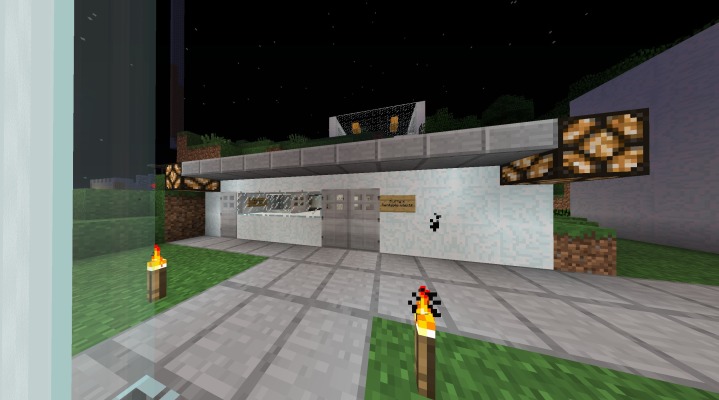 What is it?
We provide 6 rooms you can rent:
3 Rooms have 8 double chests you can use to store your stuff. Size is 6x3x3.
2 Rooms with the same spec plus a small private area from which you can enjoy the sunset.
1 Room allow you to build your custom base in a 6x4x4 area.
All rooms are reachable using a central keylock door. You have to throw the correctly renamed item onto a hopper to gain access to your room.
Workaround for the bug in Bukkit
Bukkit (the Minecraft Version that HCF uses) sometimes prevents items with the same name from stacking (try it: rename 10 items to the same name and see if they stack. Most likely you end up with two incompatible stacks). This prevents our keycard reader from testing for the correct key. You can force bukkit to fix the stacking problem like this:
Enter our vault entrance.
Craft your keycard items.
Put it in your inventory.
Logout. You can safely do that in our vault entrance, as the doors will only open after 3 minutes.
When you have logged back in, Bukkit will correct the naming problem.
Use the key. The door should open.
Sorry about that, but there's nothing we can do about it :(
How secure is it?
We tested the design for quite some time. We are confident that the system is secure. Only a correct keycard will open your room.
Here are some precautions we made:
95% of the redstone installation is protected by a subclaim, so we don't accidentally break anything (we unfortunately cannot prevent admin from accidentally breaking things. You have to trust them too). This subclaim also disallows entry into the redstone installation and the rooms. We won't change permissions of this subclaim unless we intend to do maintainance work (like replacing the anvil).
Since the chests in your rooms have to be in a subclaim that has public permissions (so you can actually open it), we have to make sure no one glitch-opens chests through the wall. To prevent this each room is surrounded by 3 thick wall of wood, obsidian and stone.
The entry way (that leads from the entrance to your room) is normally flooded by lava. This prevents other players from logging out there.
All exit drops are protected by multiple strings so players cannot pearl up.
How much does it cost?
You have to have a valid use case for your room. If you have, /msg us in game. We'll figure out a price for you.
What you get
Your own private room on our faction land. We have never been raided in the last 4 maps. Your valuables should be safe. We have strict policies for our faction that prevent us from doing stupid mistakes:

Our entrances are express redstone run-in entrances. We don't have to manually open doors that expose our complete base if misused.
Our base is separated into multiple zones that are protected from each other by doors that are always closed (and swing around the player using them). If enemy players enter our base, they can only reach a small area inside our base.
We have safe rooms inside our base for emergencies.
We have a "faction first" policy. Our members will rather die outside than opening holes that will expose the base.
We don't exit the base when we are DTR 2 or below.
When we expand our base, we always make sure we close the base behind us before opening external/unsafe walls.
We never leave the base in numbers that would allow our DTR to fall below 2.

We won't touch your items. Our faction has a strict hiring policy. We only hire people we know in real life / family. Everyone in our faction can be 100% trusted not to betray.
Only you will know your secret password needed to access your room. If you forget your password we will only tell you personally. We will not reveal your password to members of your faction. It's up to you to share the password with other faction members if you trust them.
You can use the system anytime. The system is fully redstone automated, so we don't have to be online.
How does it work?
At our base, look for the beacons. Right behind them is the main vault entrance. It the main double door is closed (also indicated by the lit up redstone lamps), you have to wait till you can enter. You can use our safe room or the XP/enchanting room for that.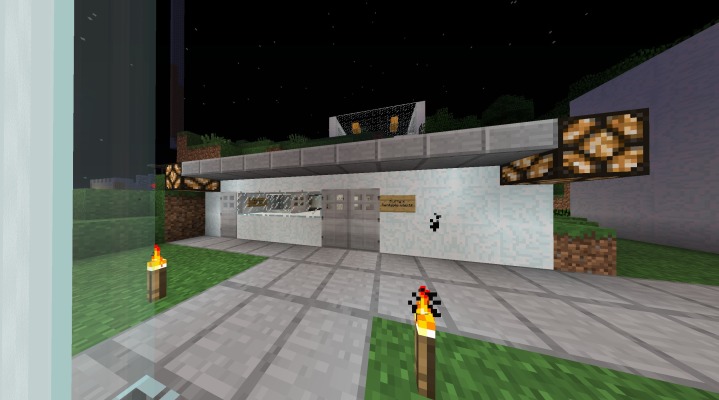 Once the door opens again, just run inside. The doors behind you will close again and stay closed for 3 minutes.
You have 3 minutes to get into your room before the outer door opens again
You now have 3 minutes to get into your room before the outer door will open again. This is how the vault entrance looks like inside when you enter it: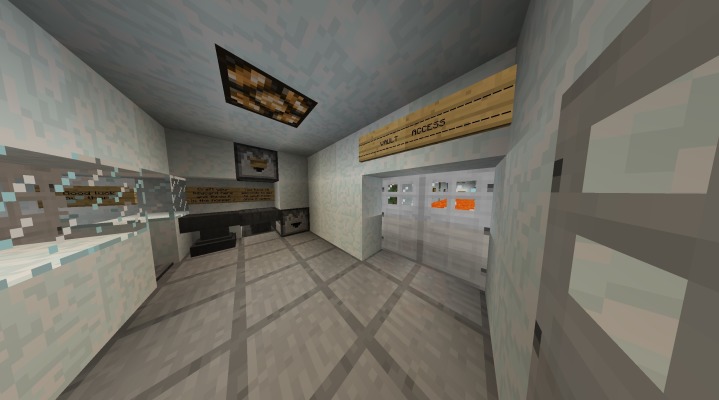 In front of you is the vault access that leads to the room. It is closed at the moment and the floor is covered in lava to prevent other player from logging out there. To the left is an anvil, a dropper and a hopper. The anvil can be used to rename an item. Renamed items are used as the keycard to unlock your room. The item name has to be kept secret as it will allow anyone to unlock your room. So only create your keycard item when you're in the vault entrance.
Remember to have at least 5 levels on you, so you can rename the item. If you don't have 5 levels, you can use our xp farm.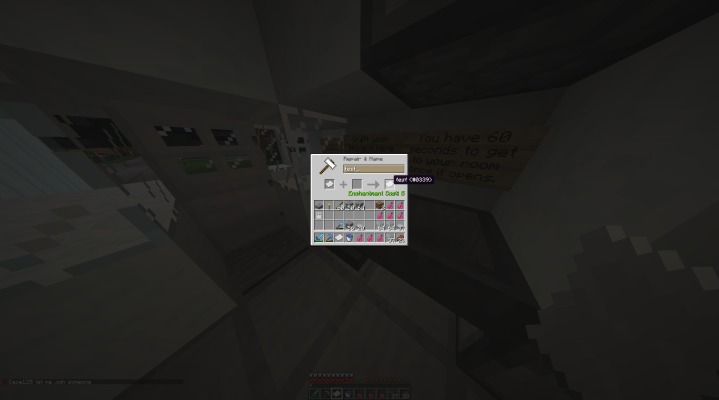 Next, throw the keycard item on the hopper. The system will read your keycard and, if correct, will open both the inner door and your room door. If you put in an invalid item, the dropper to your right will return your item.
Assuming you put in the correct key, this main door will open the the lava will retract. You now have access to the vault corridor. You now have one minute to reach your room. After that, the inner door and the room door will close again and the lava will come back.
You have 1 minutes to get into your room once the inner door opens. After that, lava will cover the floor. If that happens, use the emergency exit at the end of the corridor.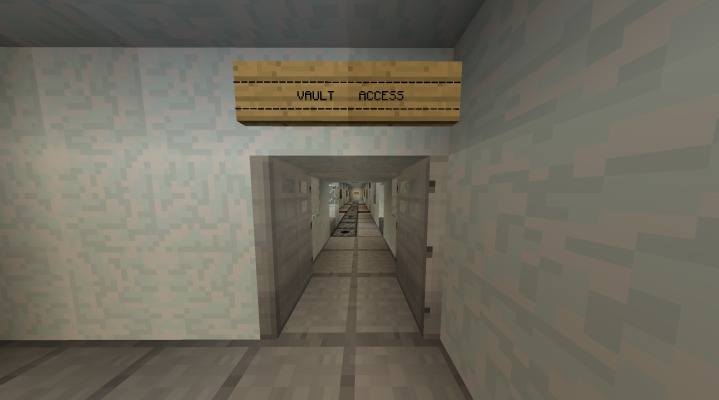 Enter the Vault through the inner door. The door will immediately close behind you to prevent other players from following you.
Walk straight to your room. The security system will close doors behind you.
Follow the corridor upto your room. You room is indicated by a lit up redstone lamp on the floor. Enter your room. The room door will close behind you.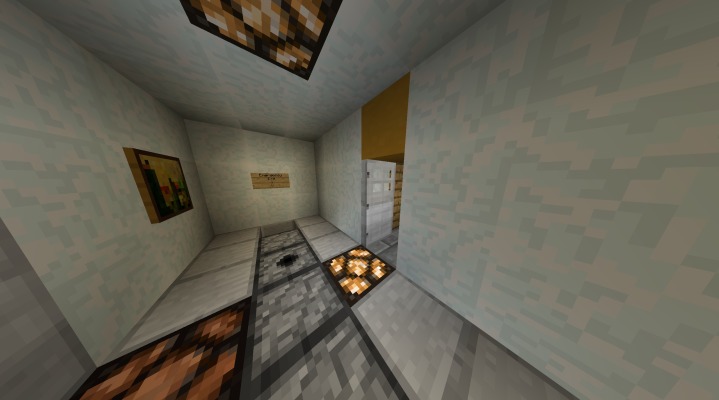 This is your room. All chest are fully accessable by you. Store your stuff here.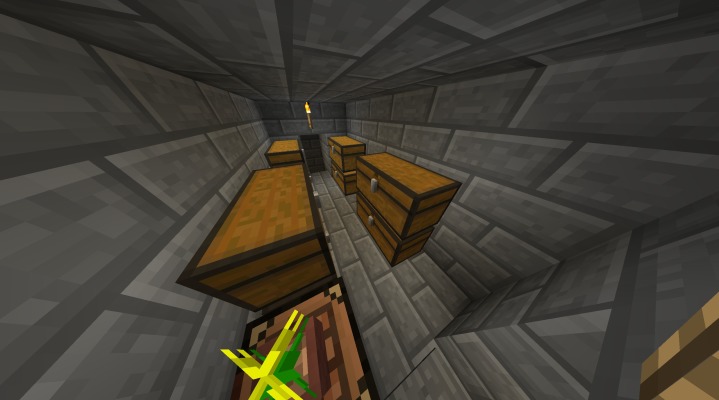 When you're done, use the drop at the opposite side of the door. This will lead down to the exit area. From here you have various ways to exit and get home safe. Before entering the shared area, be sure no other players are close by.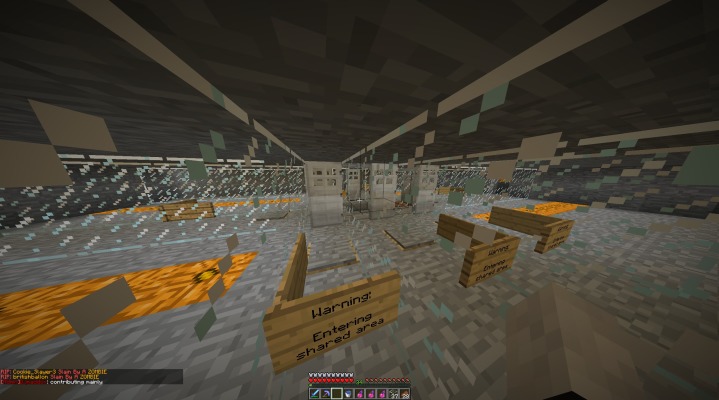 Inside the shared exit area you can chose either the surface exit or various basement exits. Once we have enough money we might also install an end exit here.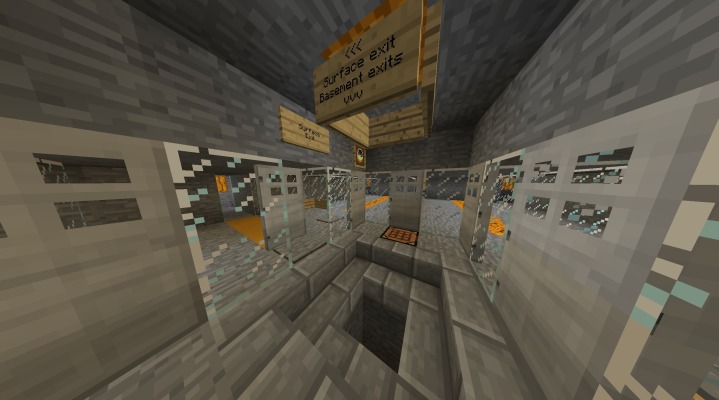 If you chose the surface exit, enter into the door indicated by "Surface Exit". Follow the stairs (you'll pass a safe room on your way up, use it if nesessary). At the end of the stairs is a pressure plate that will open an exit. Run out. Good luck!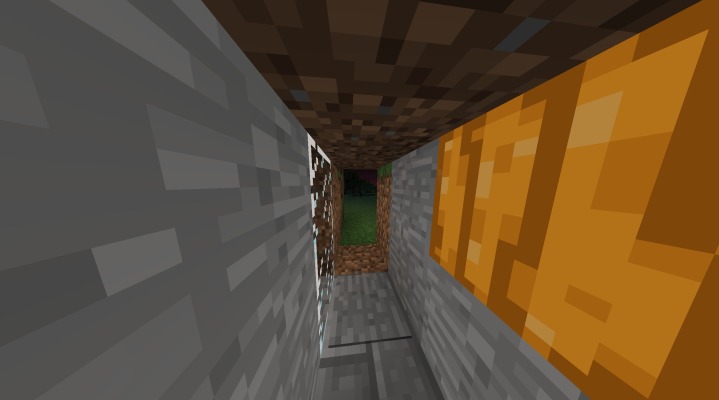 If you chose the basement exit, you'll drop down into this area (onto the gold ore). There are two one-way tunnels you can run into to use /f home (they both have safe rooms at the end, if you need them).
There is also a safe room in the corner. and 4 spots to drop down to y=11.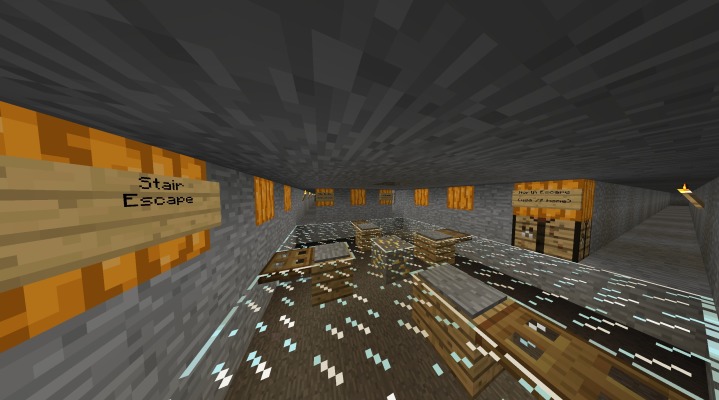 Finally there is the stair escape. It leads down to y=11 from where you can have a look around before you exit through a one-way iron door.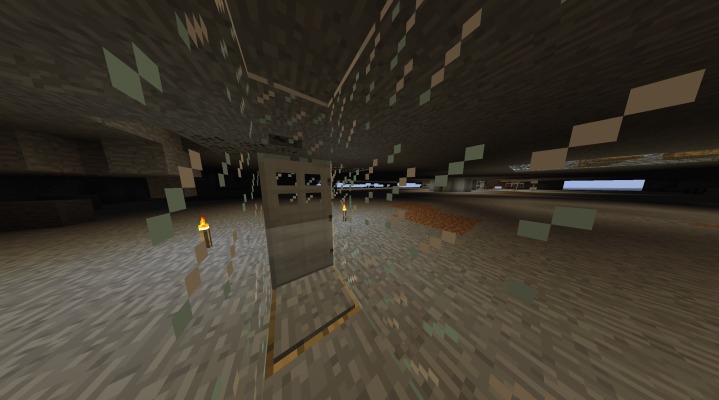 At y=11 we have a huge open area. There is enough space to get away from other players so you can use /f home.